Extracurricular objectives
To familiarize the child with another language on a regular basis

To provide the child with a cultural opening that will allow him/her to learn a language more joyfully.
Our teaching methods are playful and creative.
It is neither intensive nor academic. Extracurricular learning is done in an active, lively and differentiated way.
Through games, cooking, crafts, painting or dancing, the children are immersed in the target language!
We give priority to the spoken language. Our trainers teach their mother tongue or the language in which they were schooled from an early age.
For this reason, and because we take into account the interests of each child, we prefer small groups of the same age group :
The size of the groups is different according to the chosen extracurricular formula :
5 to 10 children for the language workshops at Tutti Frutti

8 to 10 children for school classes
Extracurricular activities in Uccle for children aged 6 to 9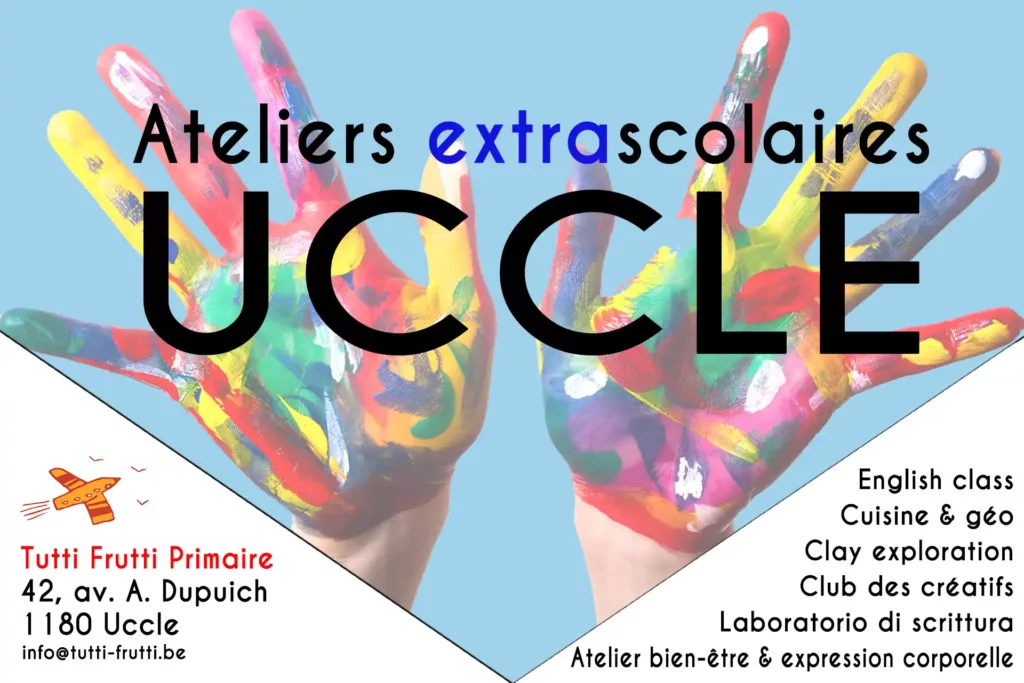 These workshops are designed for children aged 6 to 9.
CLUB DES CREATIFS WITH NINON – MONDAY 4:15pm to 5:45pm

CLAY EXPLORATION WITH SAHIB – TUESDAY 4:15pm to 5:45pm

WELLNESS AND BODY EXPRESSION WORKSHOP WITH SANDRA – TUESDAY, 4:15pm to 5:45pm

LABORATORIO DI SCRITTURA – WEDNESDAY, 2:45 to 4:15 p.m.

ENGLISH CLASS – WEDNESDAY, 2:45 to 4:15 p.m.

CUISINE & GEO AVEC POUPETTE – THURSDAY FROM 4:15 to 5:45 p.m.
Extracurricular activities in Saint-Gilles
Trips to Tutti Frutti in minibus !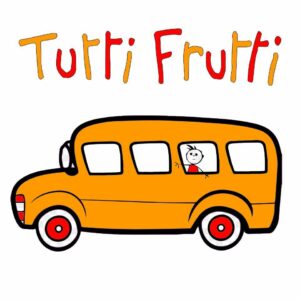 Tutti Frutti offers a mini-bus transport service, which takes your child from their school* to our classes in Saint-Gilles; available Mondays, Tuesdays, Wednesdays and Fridays.
*These include neighbouring communal schools in Saint-Gilles, Forest, Ixelles and Uccle.
You can then pick up your child at Tutti Frutti after their class.
Registration is done on MyTuttiFrutti.
Please note, these limited places are sold out quickly!
"Our greatest reward is that the child finds meaning in his or her learning.
For himself and for his relationship with others."

Slice of life: relaxation

I enter the Italian class. Surprisingly, all the children were lying on the floor on a large piece of cloth. The teacher tells me that they were rather agitated. So she suggests a moment of relaxation to music. We imitate the wind when the music is over, then one by one, the children sit down.
I imagine a parent walking into a language class and seeing their child relaxing to music instead of learning the language they are enrolled in.
However, relaxation has its place in a school. The brain and the body need these moments of rest, which in reality are far from being passive. These quiet moments refocus energy and allow the brain to integrate what has been seen and heard.